You change the world — We protect You.
Together We Make a Difference.
EMPA protects both you and your clients with insurance tailored specifically for you, an Energy Medicine practitioner.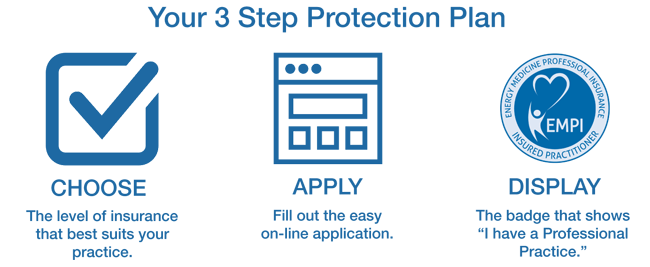 Energy Practitioners like you offer emotional and physical relief to others.
But accidents happen even in the best practices and to the most caring healers.
Nobody should have to worry about being sued or be concerned about an incident happening
under their care. Should, something happen EMPA is there to walk with you through the entire
process — from financial protection to having a good lawyer and settling the claim.
We offer you peace of mind.
Covering over 88 different modalities
Standard
Coverage suited for Energy Medicine students and part-time practitioners working less than 6 hours per week.


Allows for classes or sessions with up to 9 in-person participants.


No participation limits for online sessions or classes.
$235 annually
Professional
Coverage for Energy Medicine practitioners working more than 6 hours per week up to full-time practice.


Allows for classes or sessions with up to 9 in-person participants.


No participation limits for online sessions or classes.
$260 annually
Premium
Coverage for any practitioner working with large, in-person groups with over 9 participants.


Allows for classes or sessions with 1-99 in-person participants.


No participation limits for online sessions or classes.
$365 annually
Energy Healers Make a Difference
You are changing the world — offering answers that are not available in the conventional system and helping people tap into their own healing abilities.
EMPA helps you protect the practice you love.
What Energy Healers Are Saying About EMPA
Getting insurance from EMPA helped to show my clients that I am serious and committed about my practice and not some fly by night operation working out of their car or spare room of their home.
Having insurance is an investment in yourself and allowed me to rent a professional space which made me look and feel more professional. It's worth the peace of mind that I am covered.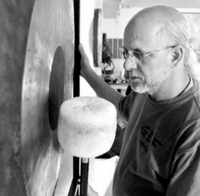 Frank DiCristina
Harmonic Sound Therapist and Instructor, Dowsing, Crystal and Reiki Practitioner
One hopes that they never need insurance. But if a need arises, it is a must have. It is too bad we live in a litigious society. You can never be too careful when working with people in a vulnerable condition needing healing.
Insurance is a cost of doing business in health care, especially since it costs so little-comparatively-to other costs of doing business in health care. It is always prudent to be careful when dealing with people. I believe that any professional should have insurance to protect their personal assets. This is not a place to cut costs.
I feel like I have an organization, like EMPA, that has my back just in case. I feel more careful and astute in my ethical practice when I carry insurance.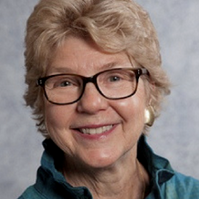 Ann Cathcart
Chanhassen, MN
Owner, Clear Path to Wellness, HTCP, Holistic Nurse, Master Healer and Integrative Health Coach
Before getting my insurance coverage thorough EMPA, I had fear that a client would be unrealistic in their expectations, regardless of informed consent, that would cause them to take unwarranted legal action. If this happened where would I turn for help?
Now that I have coverage, I have confidence that this organization would help me through such situations if they arose. The peace of mind you get from having the insurance allows for a more heart centered and client focused practice.
EMPA assures both myself and my clients that I take my practice seriously and I am backed by an ethical and knowledgeable insurance organization.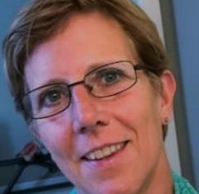 Joni Ryan
Concord, NC Certified Metaphysical Practitioner, Chaplain, Reiki Master, and Healing Touch Practitioner Apprentice Mind, Body, Energy Center
Do I Need Insurance for My Practice?
Download a Free Insurance Buyers Guide and find out.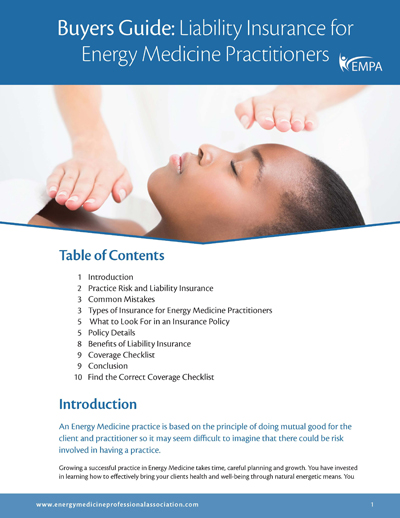 The best time to get insurance is before you need insurance. . .
We know we need insurance but we often don't want to take the time or spend the money to get. EMPA makes it easy — with clear information, a short application and it is affordable. Diminish your worry, protect your clients, and raise the credibility of your practice with EMPA insurance.
EMPA Members offer their clients the additional assurance of their professional practice by agreeing to abide by the EMPA Code of Ethics.
Stop Worrying About Your Practice
Your practice deserves respect and credibility.
We help you "cover all the bases" so you rest easy at night.